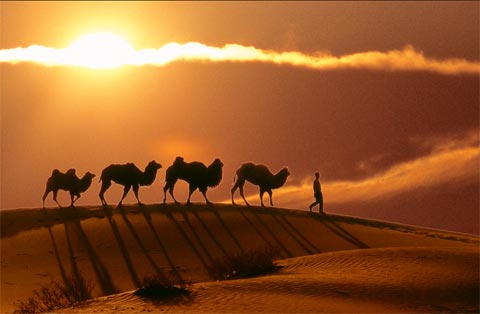 The Great Silk road appeared in the third century B.C. as a trading route and existed until the 16th century. The ancient trading cities located along the Silk Road were the evidents of so many important historical events and some of them still keep the heritage left after the great route.
The Great Silk Road was one of the most significant achievements in the history of World civilization. An established networks of caravan roads crossed Europe and Asia from the Mediterranean to China and exchanged culture and traditions at the same time.
The most extensive site of the Silk Road passed through the territories of Central Asia, including Kyrgyzstan. Caravans laden with silk from China, spices and semi-precious stones from India, silver products from Iran, Byzantian cloth, Afrosyab ceramics and many other goods passed through the boundless steppes of the Sary Archa, had to overcome the passes of the Pamir, Tien-Shan, and Altai Mountains, and cross the Murghab, Amu Darya and Syr-Darya rivers.
One of the most important heritages of Silkway is the Tash Rabat caravanserai. It still exists and bears solitary witness to these extraordinary feats of blood, sweat and bravery. This extraordinary valley now welcomes a new wave of visitors – travelers but still echoes to the ghostly footsteps of Silk Road traders.
Osh, Kyrgyzstan's oldest city was also a crossroads trading center. Known as a charmed and cultured place, rich in fruit and nut forests, it flourished during the heyday of the Silk Road.